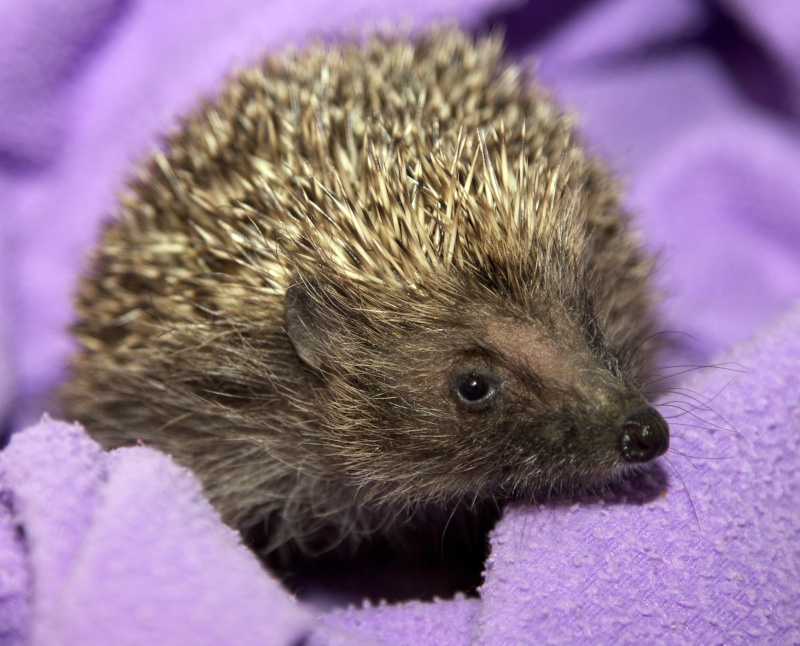 We have had the busiest 'baby season' ever this year at the Rescue Centre, with many orphaned baby hedgehogs coming to us for care. One such baby was found lying at the foot of a steep embankment at Stanah Country Park, and despite a search for his nest, nothing was found. We think the nest must have been at the top somewhere and this baby must have tumbled out and fell down the slope. What a start in life – he was one day old and weighed just 16gms.
Two months later, 'Stanley' now weighed over 500gms. He was beginning to show signs that he wanted to be away, and so the decision was made to release him on Thursday 9th September. He was taken to Carleton Cemetery and released into a safe area where there were lots of bushes and ground cover for him. We watched for ages and took many photos of him as he took his first tentative steps into the big wide world, snuffling through the grass and leaves and then investigating a small slug he found with absolute delight. It was hard to say goodbye after the many hours I had spent with him over the previous weeks, but this was where he belonged and my job with this little hedgehog was now complete.
The following day however, the weather suddenly deteriorated with gale force winds and driving heavy rain and we were getting more and more concerned about Stanley and if he was coping. So late on Tuesday night, armed with flashlights, we decided to go and take a look, even though we knew he could be anywhere by now.
We took our two dogs with us - Mollie and Tia. Tia in particular could always lead us to a hedgehog that was out and about, so if anyone could find Stanley, she could. We searched the whole cemetery until a flashing torch ahead of me told me Tia had found a hedgehog. It wasn't Stanley though. This was a much bigger hedgehog which looked quite healthy. We decided reluctantly to call it a night, and made our way to the gates of the cemetery, but Tia headed off towards some bushes where she found another hedgehog, but sadly this time this one was dead. I wrapped him up in a plastic bag and took him home to take a closer look. It was only a young hedgehog, I hoped it wasn't Stanley.
Amongst everything else on him, I noticed a small round hole in the middle of his forehead. I estimated that the body had been there for about a week and so it couldn't possibly be Stanley. But something wasn't right. The time factor had me convinced it wasn't him, but I was sure I was seeing the same unmistakeable patch of spines on his back - the patch where I said I would know him again if I saw him. I suddenly realised that the injury might possibly have been from an air rifle, so the following day I took him to the local Vets who did an x-ray on the body. Sure enough, this showed he had been shot and the Vet estimated he had only been dead since Sunday / Monday. I knew then this was definitely little Stanley. I was devastated.
I had hand reared this baby hedgehog from being newborn. The countless feeds round the clock for weeks, and against all the odds finally getting him to the stage where he could be released into the wild where he belonged, into an area where we thought was safe and which would provide him with the best possible chance of survival. He had enjoyed a maximum of just two days of freedom before being shot. He didn't deserve that. What mindless moron would do such a thing to a harmless creature?
As hedgehogs are a protected species, the matter is now in the hands of the police and I am left seriously questioning whether I continue to do this work.
Janis Dean. (Charity Manager)
Last edited by The Hedgehog Lady on Thu Sep 23, 2010 4:15 pm; edited 2 times in total
Administrator





Posts

: 84


Join date

: 2010-01-11


Age

: 68



A tribute to little Stanley

A helpless scrap of life, just one day old,
Found lying on a lane at Stanah, I was told.
You had lost your Mum and your siblings too,
And needed someone to take care of you.

So that's how you were brought to me,
And a cute little character you turned out to be.
You were fed round the clock and for quite some weeks
We certainly had us some troughs and peaks!

How did I find time to meet all your needs,
What with the other hedgehogs constant feeds.
But slowly and steadily you began to thrive,
And in your fleece blanket you'd love to hide.

But there is one thing I really must confess,
I enjoyed every minute – well more or less!
Such an absolute pleasure to help you pull through,
And a special bond formed between me and you.

When the night finally came to let you go free,
I worried and fretted - quite naturally.
I watched you go off into the big wide world,
In a warm leafy nest you would soon be curled.

But just two days later, you would be found,
Without any movement, not so much as a sound.
Shot for the hell of it, my heart it did tear,
Are there not enough dangers already out there?

Only two days of freedom – is that all you deserved?
Who could do this to you, it just seems so absurd.
Such a harmless creature – such a wicked waste,
I hope you are now in a much better place.

Rest in peace little one.

Administrator





Posts

: 84


Join date

: 2010-01-11


Age

: 68





Similar topics
---
Permissions in this forum:
You
cannot
reply to topics in this forum